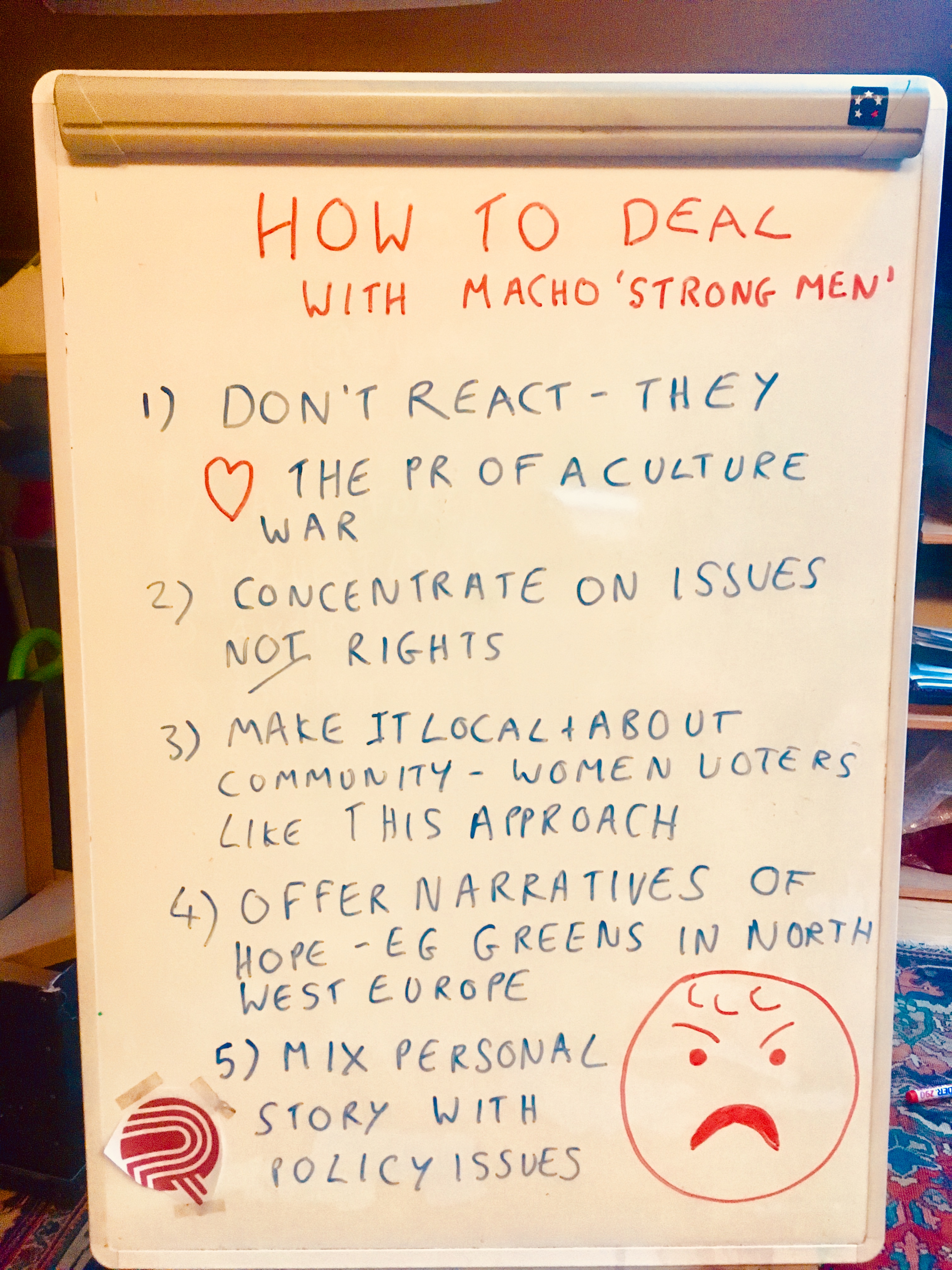 Last Thursday I was on Euronews' Raw Politics show talking about 'strong men' and communications tactics for responding to the Putins, Orbans, Trumps and Bolsonaros of this world.
It follows an open letter from 26 former female leaders in which they argued that the rise of autocratic 'strong men' had led to the erosion of women's rights across the world.
You can watch the sequence here (the segment I'm in starts about 15 minutes into the programme) but here's a quick summary.
While progressives may despair of strong men's nationalist outlooks, inflammatory language and 'us and them' narratives, there are some proven tactics and strategies for dealing with/working around them.
Ahead of the European elections, here are my tips on how to deal with toxic masculine politicians and their supporters.
This advice is particularly aimed at women candidates so please share this with the ones you know.
1) Don't take the bait
Macho politicians and their supporters love nothing more than the oxygen of a good culture war. Whether it's Brazil's President Bolsonaro claiming he would rather his son die in a car crash than be gay, or the Polish MEP Janusz Korwin-Mikke arguing women should earn less than men because they 'are weaker and less intelligent' than men, macho politicians love to stoke the outrage factory that their provocative comments cause. Their base loves it and the anger of their critics keeps the discussion alive and fuels their self-belief. But the best response is not to take the bait. Put another way, who is the person who has best been able to deal with Donald Trump? It's not another blustering angry man, it's Nancy Pelosi, a calm controlled woman, who treats him like a naughty dog. Instead of keeping toxic discussions alive by getting angry in public, campaigners should focus on communicating their own agendas.
2) Concentrate on concrete issues that matter to people not the abstract rights agenda as a whole
'Strong men' have weaponised all discussions about rights – be they human, gay, trans, women's – by asserting that women and minorities have advanced only at the expense of traditional families and white men. Successful campaigners avoid this emotive trap and concentrate on what matters to real people's lives as illustrations of why these rights matter. This is a subtle but important difference.
3) Understand your audience and keep communications local and community based
In the US midterms, the Democrats' 'blue wave' saw an unprecedented number of women elected to Congress – and not just in states that had voted for Hillary Clinton in 2016. They turned their anger into positive campaign energy and concentrated on 'pocketbook' issues that mattered to their voters such as healthcare, work and childcare. The candidates were able to do well across the Red State/Blue State divide because of their local focus and understanding of their voter's concerns.
4) Offer positive narratives of hope
In North Western Europe the positive energy lies not with right-wing populists but with a resurgent Green party and teenagers demonstrating against climate change. Voters, particularly women, need narratives of hope and community building, particularly about Europe. Campaign communications must offer empathy, hope and the possibility of real change, not just anger and despair. Otherwise, it's psychologically debilitating and people often give up because it's all too overwhelming.
5) Make it personal
Part of the success of the 'blue wave' women was that on the campaign trail they mixed their personal stories into their policy objectives. Campaigners in Europe could learn from this approach too.
Historically, personalised storytelling hasn't been a much of a feature in European Elections. Could 2019 be the year it changes?
Further reading:
www.weforum.org/agenda/2019/02/female-leaders-warn-about-the-erosion-of-women-s-rights/
www.nytimes.com/2018/10/28/world/americas/brazil-president-jair-bolsonaro-quotes.html
www.cnbc.com/2017/03/07/polish-mep-women-must-earn-less-since-they-are-less-intelligent.html
www.bustle.com/p/the-2018-female-candidates-completely-rewrote-the-playbook-for-how-to-run-a-campaign-13105179