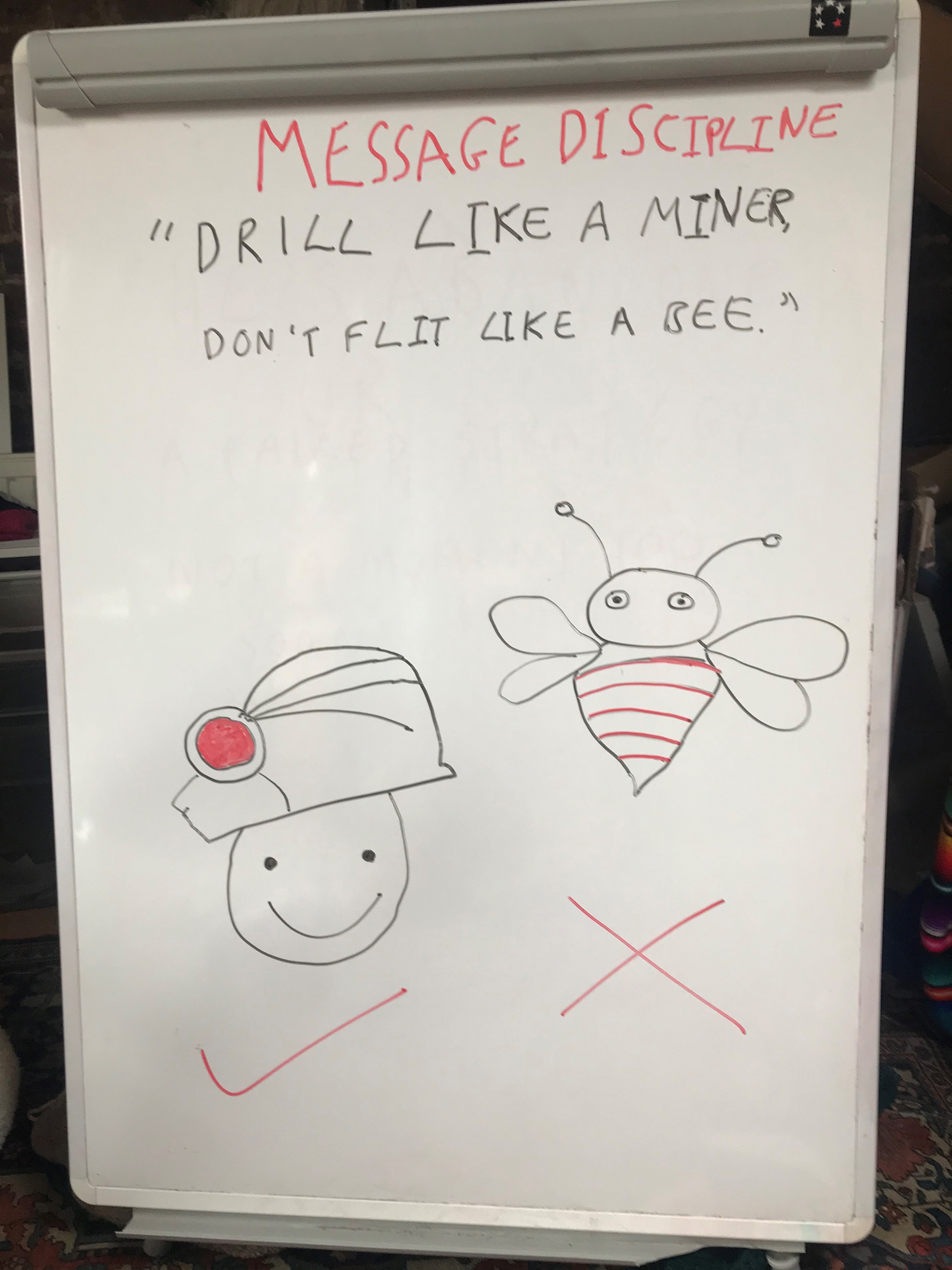 A common complaint from attendees of my sessions is that they are bored with delivering the same message in every interview, advocacy meeting or panel talk.
They think message discipline is a relic of the pre-digital 1990s and that it's crass.
This ignores a stark reality: the vast majority of people outside your company or organisation are far less interested in what you have to say than you are, and will only recall a fraction of it, particularly when filtered through a media story.
I recently came across this argument for message discipline – the most eloquent I've yet heard. It comes from *US Senator Sheldon Whitehouse (D-RI):
'We (the Democrats) are like a bumblebee when it comes to messaging. We go from place to place and there's no really persistent theme, whereas the Republicans are like miners drilling for ore. They know half a dozen things that their big donors really want, and they will pull and press and pitch the issue until they've made at least their base, and much of the public want it.
And they are persistent, and they are narrow, and they have really talented Madison Avenue types (PR and advertising professionals) guiding their messaging. And we're much more episodic. And it doesn't hold up as well'.
As a side note it's worth pointing out that Senator Whitehouse was referring to Congressional Democrats. Joe Biden actually began and closed his successful Presidential campaign with the same message about the battle for America's soul. i.e., he and his team were highly disciplined.
There are clear lessons for lobbyists and non-political professionals here. If you are genuinely going to influence a shift in people's thinking or behaviour then you will need to undertake a rigorous programme of priming, framing, messaging and repeating until you are blue in the face (does the 40-year march towards Brexit ring a bell?) and have persuaded people to come over to your way of thinking.
In short, if your message hasn't changed, don't change it just because you've got nothing new to say – still less if you're just personally bored with it.
By all means, change the wording of media quotes or social media posts if you're concerned that you may be coming across as robotic. Frans Timmermans, the EU Commissioner overseeing the Green Deal is good at pounding a message and not sounding like an automaton. One of his key themes is the massive behaviour change people and businesses will need to make in order to decarbonise Europe. He has previously referred to it in an FT interview as a 'tectonic shift' and as 'bloody hard to do' at a meeting in the European Parliament late last year.
Different words, same message.
So be like Joe and Frans: drill like a miner, don't flit like a bee.
*Senator Whitehouse was speaking on The New Abnormal podcast (episode from 9th February).